LIOF Foreign Investors Day 2018
Thursday 14 June 2018 2:30 PM Thursday 14 June 2018 7:00 PM
Save
Saved
Last update 15/06/2018
1373
LIOF Foreign Investors Day: the network event for foreign companies based in Limburg
Limburg has over 500 current investors with a parent company abroad. We are proud of you, of your investment in the region and for this we would like to share a toast with you. LIOF's goal is to strengthen the regional investment climate and therewith the economy. You and your company play an important role in the growth of the regional economy. At the LIOF Foreign Investors Day we would like to discuss the regional investment climate with you. We will address topics like finding the right personnel, cybersecurity and Brexit. But most of all we offer you a unique opportunity to meet other representatives of companies that landed in Limburg in the past years.
The LIOF Foreign Investors Day will take place on June 14th at Beachclub Degreez in Panheel.
As keynote speaker, Joris Luyendijk, writer and journalist, will share his view on the economic future of Limburg, the Netherlands and Europe. What is the impact for you and your business in the Limburg region? What can we learn from each other and, above all, do for each other? Furthermore we offer you four workshops in which we elaborate further on actual topics such as cyber crime and blockchain.
Program
2:30 - 3:00 Start of the event – welcome drinks
3:00 - 3:15 Welcome by Tys van Elk, Managing Director at LIOF & Jeroen Nijland, Commissioner at Netherlands Foreign Investment Agency
3:15- 3:30 Introduction by Joost van den Akker, Regional Minister of Economic Affairs and Knoweldge Infrastructure
3:30 - 4:30 Keynote 'How to prepare your company for a future full of uncertainty' by Joris Luyendijk, writer and journalist
4:30 - 5:30 Workshops:
Workshop 1 - Cybersecurity
Michel Gulpen & Peter Schijven - Cybersecurity Advisors Kembit
Malware, hackers, data leaks and the General Data Protection Regulation are in the news every day. As a manager, you can no longer ignore the subject of information and data security. But where to start?
Workshop 2 - Brexit
Annemieke Busch – Senior Project Manager at Netherlands Foreign Investment Agency & Han Verhagen, KPMG
Topics: political instability in relation to foreign investments, consequences of Brexit for international business and value chains, access to talent, tariff and non-tariff trade barriers, exchange rate volatility as a consequence of the Brexit.
Workshop 3 – "The Global Blockchain Race"
Vince Meens – Blockchain Entrepreneurship Developer
How did it all start with Bitcoin? Terms and concepts that are of importance to make Blockchain understandable. Why is Blockchain hot? What is the impact of Blockchain on your business?
Workshop 4 – Labour market and employer branding
Joost Gipman – Manager Recruitment at Tempo-Team
2018, the war on talent has started. A new generation is entering the labour market. Internet giants are conquering the vacancy market. Companies and recruitment agencies are shifting their focus on diplomas to the mindset of new employees. How does your company cope with these challenges in the current labour market?
5:30 - 7:00 Networking & Drinks
We would like to welcome you on June 14th. Will we be seeing you there?
LIOF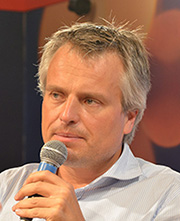 Photo by Bengt Oberger
Joris Luyendijk, born in Amsterdam in 1971, educated in the Netherlands, the US and Egypt. He was – among others - correspondent in the Middle East. After that he was active on the 'JorisLuyendijk Banking blog' for the Guardian in London, an experiment in long-tail journalism. The Dutch edition of his book on Finance & The City came out in the Netherlands on Feb 17 2016.
For more information on Joris Luyendijk: http://www.jorisluyendijk.nl/english/
culture
trade shows
business
workshop
Nearby hotels and apartments
Beachclub Degreez Panheel
Velkenskamp 1, Panheel, 6097, Netherlands
Beachclub Degreez Panheel
Velkenskamp 1, Panheel, 6097, Netherlands
Event from
eventbrite.nl